Angelique Francis — Late-night Bandleader
Caitlin Wellman — Head Judge
Jenna Applegarth — Instructor, Judge
Jon Tigert — Instructor, Judge
Naomi Uyama — Bandleader, Instructor
And of course, our amazing Event Team
---
Angelique Francis (Late-night Bandleader)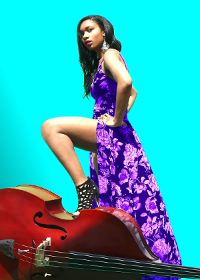 Angelique Francis is a versatile and exceptionally gifted musician with talent that is way beyond her years. This multi-talented, multi-instrumentalist, multi-genre singer song writer and composer has wowed audiences across the globe with her electrifying performances, instrumental abilities and powerful textured vocals. She is known for her eclectic mix of various musical genres including Blues, Soul, Folk, Jazz, Gospel and Rock. Angelique has shared the stage/opened for a large roster of well-known musicians such as Gary Clark Jr, Beth Hart, Tom Cochran, Burton Cummings, Sugar Ray and the list goes on. Her diversity, passion and love of music can be heard in all of her original compositions.
Caitlin Wellman (Head Judge)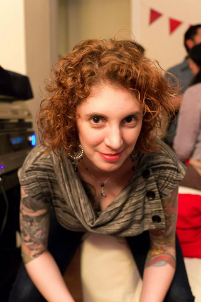 Caitlin was a founding member of the multi-award winning performance troupe Minnie's Moochers, from Ithaca, NY, who performed at the Frankie95 Celebration in NYC. She has been in demand as a teacher across the US, Canada, Europe, Australia and Asia for many years. With her Toronto partner Chachi, she was the Director & Choreographer for Capital Dance Productions, a performance troupe that specializes in 20th century North American partner and solo dances. She has also been the Artistic Director & Choreographer of The Flappettes, a sassy all female 1920′s Jazz & Charleston troupe.
Caitlin has also made several Television and Print appearances such as: Instant Star, Much Music Video Awards '06 with Fall Out Boy, Toronto 1 "Toronto Dances" program, and the cover of Dance Spirit Magazine.
Jenna Applegarth (Instructor, Judge)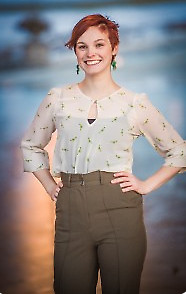 Jenna first started dancing when she was still in diapers. She began swing dancing some many years later, luckily no longer in diapers. Jenna continues to expand her dancing repertoire and share her love and knowledge of these dances with others. Although she enjoys pretty much any type of dancing and music you can move to, her first love is Lindy Hop. Her energy and passion create the perfect environment for learning, creating challenging yet applicable lessons.
Jenna has attended, coordinated, and taught various workshops and exchanges all across the globe. Some of her favorite highlights are performing at Benaroya Hall in The Jump Session Show and teaching for Lincoln Center's Midsummer Night Swing. Above all else she believes that learning to dance should be fun. With over 10 years of teaching/coaching experience, she loves finding new ways to connect with other dancers on the floor and in the classroom.
Jon Tigert (Instructor, Judge)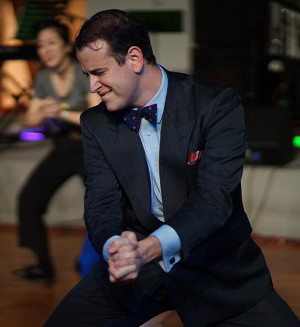 Jon Tigert found swing dancing at the tender age of 15 and never looked back. Now, somewhat older than 15, Jon shares his knowledge of the dance all over the United States and the World. You may know him from his roles at events such as Lindy Focus, Lindy Fest, The Canadian Swing Dance Championships, The Chinese Lindy Hop Championships, Herrang Dance Camp, The International Lindy Hop Championships and many more. Known for his concise language, historical knowledge and and infinite supply of dad jokes, Jon's classes are immensely informative and entertaining. Beyond teaching, Jon is often seen behind the microphone as a well known MC and host, behind the computer as a DJ, or behind the drum kit playing and singing with various bands.
Naomi Uyama (Bandleader, Instructor)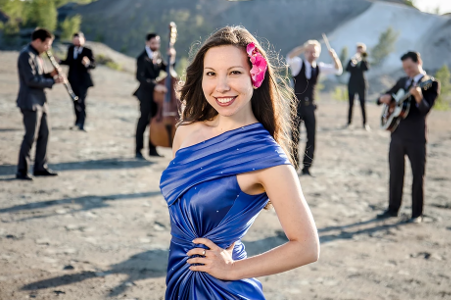 International Lindy Hop champion Naomi Uyama has formed a band with some of her very favorite jazz musicians to bring you the most swing possible. Since coming together in 2013 Naomi & Her Handsome Devils have played some of the biggest and best lindy hop events from South Korea to Sweden and everywhere in between. Their recordings are played at dances around the world. This is small group swing with big band sensibility.
---
Event Team
Without the following people, O-Town Showdown would not be possible!
Adam Feiner — Organizer
Laura Smith — Organizer
Paul Campbell — Volunteer manager
Robin Treleaven — Logistics
Dave Schindler — Web manager
Shannon Macgillivray — Marketing/Publicity
Erik Morris — Design
Flynn Strathearn — Apparel, Operations
William Ewanick — Head DJ
Kalyn Jobb — Food Manager
Anne Dagenais Guertin — Safety Policy
Devon Rowland — Photography
Special thanks to the Ottawa Swing Dance Society, to Red Maple Blues, and to Side Street Swing for their sponsorship and logistical support.