Aimee Mannella — Co-Master of Ceremonies
Antoine Simard — Judge
Caitlin Wellman — Head Judge
Coralie Bazinet — Judge
Jonathan Caron — Judge
Lunou Samson Poirot — Judge
Naomi Uyama — Bandleader, Instructor
Olivier Henchiri — Co-Master of Ceremonies
Travis Matte — Judge
And of course, our amazing Event Team
---
Aimee Mannella (Co-Master of Ceremonies)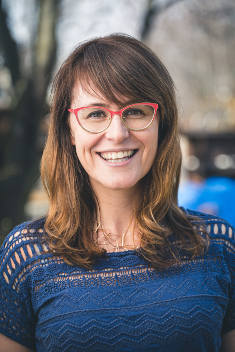 Smiles, applause, and a fancy notepad are some of the many things that make Aimee a great Emcee. She can read a room to get the feeling just right; she strives for sincerity and will always try to get a laugh if she can. After emceeing all five editions of Montreal Swing Riot, she is now beginning to travel the world (starting with Canada) as a kick-ass, charming, bilingual (English/French) emcee!
On the dance floor she is best known for her energy, her creativity, her love of dancing, and her funny faces. Behind the microphone she is best known for her energy, her creativity, her love of making people laugh...and her funny faces.
When not Emceeing, Aimee can be found teaching at her Montreal based school Swing Connexion.
Antoine Simard (Judge)
Caitlin Wellman (Head Judge)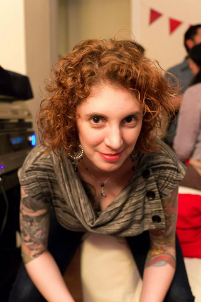 Caitlin was a founding member of the multi-award winning performance troupe Minnie's Moochers, from Ithaca, NY, who performed at the Frankie95 Celebration in NYC. She has been in demand as a teacher across the US, Canada, Europe, Australia and Asia for many years. With her Toronto partner Chachi, she was the Director & Choreographer for Capital Dance Productions, a performance troupe that specializes in 20th century North American partner and solo dances. She has also been the Artistic Director & Choreographer of The Flappettes, a sassy all female 1920′s Jazz & Charleston troupe.
Caitlin has also made several Television and Print appearances such as: Instant Star, Much Music Video Awards '06 with Fall Out Boy, Toronto 1 "Toronto Dances" program, and the cover of Dance Spirit Magazine.
Coralie Bazinet (Judge)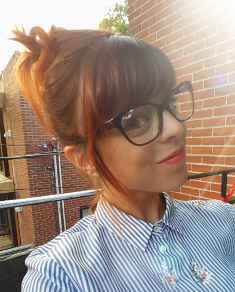 It was in 2009 (during an "Intro to Lindy Hop" class) that Coralie first discovered swing — and she hasn't stopped dancing since! For her, practices are never a chore, and she can't imagine spending a day without dancing. Her passion and her unconditional love for swing allowed her to make her way through Studio 88 Swing's performance troupes, where she earned her place in the SAF Squad: Studio 88 Swing's elite troupe, and many-times winner of international team championships. Coralie also takes part in many competitions, winning third place at the 2015 International Lindy Hop Championships (ILHC) and taking the Canadian Champion title with Antoine Simard in 2016. On top of her love of dancing, performing and competing, Coralie takes an enormous amount of pleasure in teaching lindy hop to others. Her favourite moments are when she feels that her students have had a good time with her!
Jonathan Caron (Judge)
Lunou Samson Poirot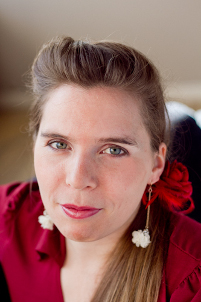 Lunou is a dynamic follower from Montreal and Quebec city. She has been swing dancing since 2003, and has developed her own style, always bringing positive energy to the dance floor.
A teacher by profession, she loves to help dancers find their way and grow in the dance. Generous and devoted, she shares her passion by performing and teaching across North America. She has been a member of the Northern Lights since 2008. She has also been one of the main teachers at Cat's Corner in Montreal since 2011.
She loves being part of the swing dance community; that's why she has dedicated her last 10 years to this dance, coaching lindy hop teams, creating projects and performing in big dance productions like "Swing Station" and "It don't mean a Thing".
She is a lover of competitions, and has won many titles throughout the years from such events as ALHC, ILHC, Camp Jitterbug, CSC and Boston Tea Party. Since 2013, she has been working with the very talented Zack Richard. They forged a strong partnership through a common love for everything crazy and goofy. Their styling differences are one of the key components of their dance relationship, and together they are always keen on both pushing the envelope and keeping the roots of the dance in authentic jazz movement.
She is very excited to see the dancers perform and compete at O-Town Showdown 2016!
Naomi Uyama (Bandleader, Instructor)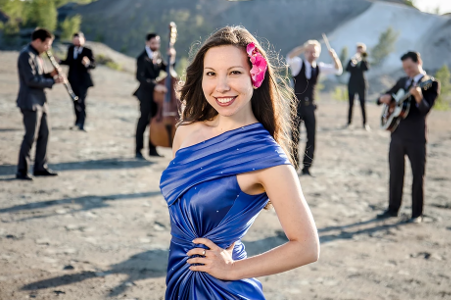 International Lindy Hop champion Naomi Uyama has formed a band with some of her very favorite jazz musicians to bring you the most swing possible. Since coming together in 2013 Naomi & Her Handsome Devils have played some of the biggest and best lindy hop events from South Korea to Sweden and everywhere in between. Their recordings are played at dances around the world. This is small group swing with big band sensibility.
Olivier Henchiri (Co-Master of Ceremonies)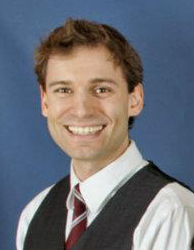 Olivier comes from a musical background that started at the age of nine, when he began playing the cello. He later developed an interest in Baroque music and founded the Ottawa Baroque Consort, an orchestra on period instruments, which he performs with and conducts.
Not satisfied with having just one obscure nerdy pursuit, Olivier took up the Lindy Hop in 2002. Over the next decade he traveled extensively to dance events and competitions, winning several titles in Canada and the U.S. He joined Swing Dynamite's teaching staff in 2006, and has since taught classes and workshops in various styles of swing. As well, he coached the Rhythm Blasters performance troupe for several years.
As part of various Swing Dynamite troupes or featured with a partner, Olivier has performed with the National Arts Centre Orchestra, the Ottawa Jazz Orchestra, and for shows at the Ottawa Jazz Festival, the Ottawa Gala, the Ottawa Fringe Festival, La Nouvelle Scene, and the Casino du Lac-Leamy.
Travis Matte (Judge)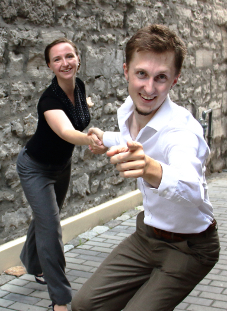 Travis began his dance career while studying classical guitar at the University of Ottawa in 2005. He quickly realized that learning to dance and play music gave him a better understanding of both. In 2007 he competed for the first time at the Canadian Swing Championships and has never looked back. Since then, Travis has not only completed a Bachelors Degree in Music (Classical guitar) and another in Education, but has also won multiple awards in Lindy Hop, Balboa, West Coast Swing, and many other styles from competitions such as the Canadian Swing Dance Championships, Boston Tea Party, Canadian Balboa Championships, Swing-a-dance, ILHC (Teams), and many others. Furthermore, he is a current member of the Swingin Air Force Squad, one of the most prestigious competition Lindy Hop teams in the world.
Known for being a bit of a youtube junkie, Travis has combined influences from many of the top dancers in the world to create his own personal style of swing. His teaching philosophy is to encourage people to find their own style and to inspire people to be creative while still giving a strong fundamental understanding of technique. Most of all, he strives to convey the love of the dance that still motivates him to work on his dancing to this day.
---
Event Team
Without the following people, O-Town Showdown would not be possible!
Adam Feiner — Organizer
Laura Smith — Organizer
Paul Campbell — Volunteer manager
Dave Schindler — Web manager
Shannon Macgillivray — Marketing/Publicity
Erik Morris — Design
Flynn Strathearn — Billeting co-ordinator
William Ewanick — Head DJ
Scott Piffard — Technical Manager
Kalyn Jobb — Food Manager
Émilie Laramée — Translation
Special thanks to the Ottawa Swing Dance Society, Red Maple Blues, and Side Street Swing for their sponsorship and logistical support.